Principal Investigator
Dr. Alejandro Rojas is an environmental social scientist and has successfully led large research teams. He has expertise on adaptive resolution of environmental conflicts and sustainability, and community engagement in food security and food system sustainability and institutional adaptations to climate change. As the PI he will provide intellectual leadership for the project, oversee the research team, co-ordinate contributions from co-investigators and work with them in the integration of knowledge and disseminating results.
---
Coordinating Committee
Dr. Gwen Chapman is a food sociologist and expert in nutrition, human health and food system evaluation, focusing on how people's everyday food practices and concerns are shaped by socially constructed notions about food, health, bodies, and social roles.
Dr. Jennifer Black is from the Food, Nutrition and Health Program at UBC. Her work focuses on understanding how social factors, neighbourhood context and the food environment shape dietary choices and health outcomes.  She is currently a co-instructor of LFS 350.
Dr. Cyprien Lomas is the Director of the Faculty's Learning Centre. He specializes in electronic methods of knowledge mobilization and innovative pedagogy and curriculum assessment
Dr. Will Valley – Will taught elementary and high school science in BC before returning to the Faculty of Land and Food Systems at UBC where he is currently pursuing graduate studies.  He is a member of Inner City Farms, an urban agriculture collective that grows food in residential spaces in Vancouver and distributes the produce through a Community Supported Agriculture model.  Will's research interests include the analysis and application of community-engaged scholarship and food system education
Elena Orrego – Project Manager
Elena is originally from Chile and has lived in Canada for most of her adult life.  She holds a Bachelor's Specialist and Master's degree in Anthropology from the University of Toronto in Canada.  Elena has studied and worked in herbal medicine for many years, and for 13 years she co-owned, directed, and administered a successful natural health center that prepared and distributed herbal medicine in Vancouver, Canada.  The centre also provided the service of practitioners in herbal medicines and other traditional health care practices.  Elena has participated in a major international collaborative research project on social adaptations to climate change, and for more than ten years she has facilitated workshops on inter-cultural communication and diversity. She has been the Project Coordinator for the last four years in a UBC-based CIDA Tier 1 International Collaborative Project Sustainably Managing Health Risks in Ecuador. Elena is also the Project Manager of Think&EatGreen@School.
Chessa Adsit-Morris – Project Coordinator
Chessa is a graduate student in the Faculty of Education focusing on Environmental Education and ecological thought. Her background is in interdisciplinary art and architecture (specifically green building design). Chessa is on the Faculty of Education's Environmental Education Caucus and helped to start The Orchard Garden, a research project which focuses on getting garden-based education into the Bachelors of Education program at UBC. When she isn't working at UBC she is running through the trails and cycling. Chessa will be representing team Canada at the World Mountain Running Championships in Fall 2014. 
Brent Mansfield – Project Community Liaison
Before taking this role, Brent was an elementary school teacher in the Vancouver School Board for 3 years. Alongside his role as the Project Community Liaison he is the garden program coordinator at an elementary school in Vancouver. He still loves being able to work with children and families, to get their hands into the soil, and to get them learning about the importance of fresh and healthy food, both for our own health and the health of the planet. Brent is also currently the Co-Chair of the Vancouver Food Policy Council, as well as a graduate student with research interests in food policy, food system pedagogy, and institutional responses for food security amidst climate change.
---
Program Staff
Matthew Kemshaw – Research Facilitator For the past 10 years Matthew has been coordinating environmental education programming for youth and adults in both Victoria and Vancouver. His work has recently focused on designing food programming for schools, public libraries, parks, and social housing communities. Matthew is working with the Think and Eat Green team to better understand how to link school food waste back in to the food cycle via compost.
Nicole Read – Research Facilitator Nicole has a B.Sc in Applied Biology from UBC majoring in Food and the Environment, and is a graduate from the UBC Farm's Practicum in Sustainable Agriculture, as well as the EYA's Community Hive Beekeeping Program. She is especially interested in native bees and how we can design urban spaces so that they are more pollinator-friendly. Nicole enjoys beekeeping, and keeps her hands in the soil as a Farm Manager for Inner City Farms.
Stephanie Shulhan 

– Research Facilitator 
Steph completed her MSc in Integrated Studies in Land and Food Systems, working closely within the 'food consumption' tier of the Think&EatGreen@School project. Her background in Development Studies fed her interest in issues of global food sovereignty, and her experiences as an Anthropology major fostered a deep respect for the importance of cultural expression through food and diet. Prior to grad school, Stephanie worked with low-income and homeless individuals in Calgary, Alberta, and with at-risk immigrant and refugee youth. She is motivated to discover new links between certain deeply-held values, expectations, and attitudes and specific food consumption patterns with important ecological implications.
---
Partner Organizations
Our partner organizations provide guidance, knowledge, in kind contributions, and support to the themes and projects under which their expertise lie.

The team members from the Faculty of Land and Food Systems at UBC have been successfully modelling an interdisciplinary and collaborative approach to teaching and research through the core courses of the Faculty (Land, Food and Community series) as well as through the Integrated Studies in Land and Food Systems graduate program. Both the courses and graduate program have a central team of faculty from plant sciences, soil sciences, food sciences, food, nutrition and health sciences, and food and environment. The LFS Learning Centre supports the faculty and the CURA project through innovative uses of technology and continually improving the capabilities of faculty, staff and students through the effective use of technology in areas of knowledge generation and mobilization.
The team members from the Faculty of Education at UBC 

are researching disconnect between children and their food in a project called "The Intergenerational Landed Learning Project at UBC Farm" under the direction of Co-Investigator Dr. Jolie Mayer-Smith [1]. Researchers from the Faculty of Education will provide direction when examining environmental pedagogy and curriculum-based research. Their expertise will help develop and integrate curricula into on-site practice in school garden, cafeteria and in-class food growing projects. Their expertise will be most present in the Pedagogy and Practices themes.
The Learning Exchange at UBC
will contribute guidance throughout the project where activities for planning and executing Community-Service Learning within the Community Impact Projects (CIPs). The Learning Exchange strives to strengthen civil society, cultivate the qualities of global citizenship, and promote sustainability, especially social sustainability, through facilitating, organizing and supporting community-university projects throughout Vancouver.
Vancouver School Board (VSB)

serves t

he Va

ncouver School District, a large urban and multicultural school district providing programs to 56,000 students in Kindergarten to Grade 12, over 3,000 adults in adult education programs and over 40,000 in continuing education. Within the secondary schools in the VSB, the school board operates ten cafeterias and a contractor operates six. 8 of the 10 VSB-operated cafeterias are also teaching cafeterias. School meal programs (breakfast, lunch and snack programs) exist in the majority of the elementary schools in the district. The VSB supports agricultural–based projects with one of the oldest projects being a school garden at Lord Roberts Elementary School, initiated in 1983. The VSB has supported school nutrition policies, development of school meal programs, initiation of school and community gardens, participatory action research on food and nutrition needs, curriculum development in school, and high school salad bars using food from school gardens. Currently, the district school garden policy is being examined for ways to decrease the logistical barriers for schools interested in creating gardens on-site. The VSB will provide opportunities and direction for engaging all participants in the school system including students, staff, parents, administrators, parent advisory councils and school policy makers. Dr Overgaard will provide invaluable oversight and direction to the CIPs as the associate superintendent of learning services. The VSB's Sustainability Coordinator, Kevin Millsip, will contribute his knowledge of the school system and its processes of decision making and educational policies, as well as eliciting interest and facilitating the participation of school principals and teachers. The VSB is required to report on their operational and behavioural efforts in addressing institutional GHG emissions; aside from the educational impacts, this research will immensely benefit their reporting on their efforts to mitigate their institutional contributions to climate change.
The Vancouver Food Policy Council (VFPC) 

is a 21 member, multi-sectoral citizen advisory group created by the City Council of Vancouver. They represent a new model of integrated local governance involving city staff and citizen groups. The VFPC, whose Chair Dr. Carole Christopher is a Co-Investigator, will play a crucial role of communication hub for the community partners as many of the project participants are members of the council. The council will be responsible for linking food security advancements in the school system with guidance, support and policy directives with relation to the City of Vancouver.
The Centre for Sustainable Community Development at SFU (CSCD)

upholds a

 mis

sion to support the sustainable development of communities through research, education, and community mobilization; it provides research, training and advisory services throughout BC and Canada as well as internationally. Since 2006, the CSCD has housed the SFU Local Food Project, funded by Environment Canada's Eco-Action Grant. The goals of this project are to 1) increase the amount of fresh local food available on campus, 2) raise awareness of the benefits of local food 3) encourage and support food production and distribution projects on campus. Dr. Miewald is building the alliance between our project and the Center. She will share the experience and knowledge collected on the use of local food in educational institutions that will be of benefit to this project.
Vancouver Coastal Health (VCH)

is committed to supporting healthy lives in healthy communities with their partners through care, education, and research.  VCH Community Nutritionists work with schools to provide food, nutrition, and food security expertise to create environments that are supportive of healthy eating.  Sarah Carten and Barbara Crocker, both Community Nutritionists, will lend their expertise and experience to the Think&EatGreen@School project themes of food consumption, food production, and policy development.  The healthy eating work they are doing in schools, including food gardens, salad bars, farm connections, teacher education, and policy development will all be enhanced through the expertise, partnerships, resources and support of this project.
The Public Health Association of BC (PHABC) 

is a voluntary, non-profit, non-government organization whose mission is to preserve and promote the public's health. The Board of Directors is comprised of public health leaders from various locales including Health Authorities, the Ministry of Healthy Living and Sport, post secondary institutions, and the non-profit sector. They are currently involved in a province-wide Farm to School Salad Bar initiative. The goal of the initiative is to improve the health of school children by increasing access to locally grown, nutritious, safe, and culturally appropriate foods. The program objectives, which have remarkable overlap with the goals of the CURA project, are to increase fruit and vegetable consumption amongst participating school aged children; to increase student knowledge about the local food system, local foods, and nutritional health; to enhance student skills in the areas of food production, processing and serving; to strengthen local farm, school, and aboriginal partnerships; to strengthen the local food economy; to develop promising practice models that are self financing, eco friendly and have the potential to be implemented elsewhere. The executive director of the PHABC, Michael Barnes, is part of the Policy theme. The PHABC will contribute to knowledge mobilization through their extensive network of members and their expertise in implementing school food programs that address food security issues.
The Environmental Youth Alliance (EYA) 

is a youth driven non-profit organization dedicated to the health of the urban environment and has experience with urban agricultural projects in Vancouver, including a number of projects in elementary and secondary schools. They will contribute expertise to the Practices theme through engaging youth in agricultural practices and developing and maintaining school gardens. By being a member in the CURA team, their own in-school projects will benefit through additional expertise, support and resources.
The Society Promoting Environmental Conservation (SPEC) 

is a non-profit, charitable organization that seeks to educate, activate and empower citizens to reduce their ecological footprint and build healthy, sustainable cities. They have a history of garden initiatives and have begun a number of garden projects within Vancouver schools. They have recently received funding to initiate food-based learning in Vancouver schools, with goals very similar to this project. Their collaboration will enhance their ability to carry out their project activities in curriculum development and establishing school gardens. By joining this project, SPEC will have greater access to their target audience as well as access to a greater depth of food system expertise. They will contribute to the project through their established relationships to teachers and principles as well as their experiences implementing garden- and food-based educational projects and workshops.
The Environmental Educators Specialists Association (EEPSA) of the BC Federation of Teachers 

is an organization committed to promoting networking, curriculum support, and leadership in environmental education, and offers professional development for BC teachers. They will play a crucial role in knowledge mobilization for teacher education and professional development.
FarmFolk/CityFolk (FFCF) 

is a non-profit society that works with farm and city to cultivate a local, sustainable food system. In partnership with the Vancouver Farmers Market Society, FFCF runs a project called Get Local. A key aspect of the project is the Get Local business alliance, whose members range from farmers and producers that supply local markets in the Lower Mainland to restaurants and retailers that buy from those local farmers. Get Local organizes an annual event called Meet Your Maker that brings together local producers and buyers to forge new business relationships that encourages both the consumption and production of local food. FFCF is also a member of Local Food First, a non-profit coalition with a mandate to support market transformation of the BC food sector by providing research, information, networking and technical assistance services to organizations, businesses, and individuals across the local food value chain.

Fresh Roots Urban Farm Society enables community-engaged learning through urban agriculture. Our commercially productive farms allow neighbours to explore the nexus of food, community, and the environment through cultural and intergenerational programming on our urban farms. Using multiple sites, Fresh Roots exemplifies an effective way Vancouver can confront global challenges of pollution, land degradation, and poor nutrition within our society.
The Canadian Centre for Policy Alternatives (CCPA) 

is an independent, non-partisan research institute and is one of Canada's leading progressive voices in public policy debates. The CCPA's BC Office is working on a CURA-funded project, in collaboration with the School of Community and Regional Planning at the UBC, to connect the two great "inconvenient truths" of our time: climate change and rising inequality. The CCPA Climate Justice Project aims to put climate change impacts and policy responses through an inequality lens, to move forward to meet our environmental objectives based on principles of equality, social justice and fairness. They are currently measuring the GHG emissions resulting from BC's food system and will support the development of the evaluative framework specific to GHG emissions through the sharing of relevant data; the information and knowledge will be shared between the two projects. Along with researching the intersection between climate change and inequality, a major focus of the Climate Justice Project is on communications. This will be an area that the two projects will be able to collaborate, potentially through the co-release of policy papers as well as video and other forms of interactive media.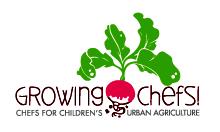 Growing Chefs!
is a non-profit society, based in Vancouver, B.C. They have two main goals: to support and encourage the development and growth of urban agriculture, and to provide an avenue for chefs and growers to engage in the community and to support food sustainability. Growing Chefs! creates a forum for chefs, educators, growers, community groups, and families to work together to further awareness of food sustainability. Most importantly, Growing Chefs! inspires children with the idea that they can grow their own food, even in the city. Growing Chefs! has been a registered non-profit society since September 15, 2005.
Evergreen
is a not-for-profit organization that makes cities more livable. By deepening the connection between people and nature, and empowering Canadians to take a hands-on approach to their urban environments, Evergreen is improving the health of our cities—now and for the future. Evergreen's mission is to bring communities and nature together for the benefit of both. Evergreen envisions a sustainable society where individuals live in harmony with and contribute meaningfully to their local environment. Evergreen will be at the forefront of the movement to create this society, by empowering communities, by creating innovative resources and by transforming educational values.
Associated Projects
The Intergenerational Landed Learning on the Farm for the Environment project is a unique education and research initiative of the Department of Curriculum and Pedagogy at UBC, that brings together children, educators, and multigenerational volunteers to explore how holistic experiences in a farming/gardening project on an urban farm can foster understanding of and respect for land-food-human connections.
The Sustainable Opportunities for Youth Leadership (SOYL) Internship trains Vancouver youth to be leaders in their schools and communities through hands-on service learning in their school gardens and with partner organizations in our local food system. Youth gain skills in garden planning, construction, maintenance, and sales. They experience the rewards of challenging, meaningful work, meet other youth from around Vancouver with shared values and interests, gain support from community mentors to continue growing as leaders, and have fun! SOYL values diversity in all forms (gender, ethnicity, ability, sexual-orientation, and socio-economic) and is committed to creating a diverse, inclusive community.
The Orchard Garden aims to cultivate a living outdoor classroom that invites learners across disciplines to explore and connect theory to practice through the relationships between teaching, learning, and growing.
---
Advisory Board
Participates in annual project meetings, and provides feedback to the development and unfolding of the project.

Dr. Tara Cullis-Suzuki, President and Co-founder of the David Suzuki Foundation
Dr. Charles Ungerleider, Director of Research and Knowledge Mobilization, Canadian Council of Learning, Professor of Sociology, Former Deputy Minister of Education, BC Government
Dr. Jean Marcus, Ecologist, Scientist in Residence with the Vancouver School Board, Coordinator of UBC President's Advisory Committee on Sustainability in the Curriculum
Dr. Lee Gass, Emeritus Professor, UBC, 2002 Canada's Professor of the Year
Dr. Ralph Mathews, Professor of Sociology at UBC and Professor Emeritus of Sociology at McMaster University
Steve Golob, UBC Food Services, culinary competition gold winner
Joanne Bays, founding member of BC Healthy Communities, current member of the VFPC and PHABC, is a community food security and sustainable food system consultant working in private practice.
Co-Investigators
Dr. Andrew Riseman is a plant geneticist, plant breeder, and agroecologist and specializes in sustainable agriculture. He currently teaches LFS 450.
Dr. Brent Skura, a food scientist expert in food safety and food quality, is the Director of Global Resource Systems and co-teaches LFS 250 with Dr. Rojas.
Dr. Art Bomke, a soil scientist and agroecologist (primary production and production and environmental impacts), is currently the Principal Investigator of a similar and complementary project on food security in BC and teaches LFS 350.
Dr. Mayer-Smith, from the Faculty of Education at UBC, is an expert in innovative science pedagogy and curriculum assessment and design on food and sustainability.
Dr. Mendes is an Adjunct Professor in the School of Community and Regional Planning at UBC and Research Associate at the Centre for Studies in Food Security at Ryerson University. She specializes in urban sustainability, local governance and policymaking, food systems planning and urban agriculture.
Dr. Miewald, from the Centre for Sustainable Community Development at Simon Fraser University, is a medical anthropologist, specializing in food security, food system sustainability assessment and food policy.
Dr Mustafa Koc teaches as an associate professor at the Department of Sociology at Ryerson. He received his BA at Bogazici University in Istanbul, Turkey, MA at University of Waterloo and PhD at the University of Toronto. His research and teaching interests involve food studies, food security and food policy, globalization and sociology of migration.
Dr. Carol Christopher, Former Chair of the Vancouver Food Policy Council and current Board Member of SPEC, is an expert in food policy, community engagement and nutritional ecology.
---
Community Co-Investigators
Dr. Valarie Overgaard, former Associate Superintendent of Student Learning with the Vancouver School Board (VSB), has expertise in the research and informational needs of the school system, and will lend her authority to elicit the cooperation of other VSB members. She is a current member of of the TEGS advisory committee.
Kevin Millsip runs a leadership program called Next Up, works as the sustainability coordinator for the Vancouver School Board with a focus on school food systems.
Sarah Carten worked as a Community Nutritionist with Vancouver Coastal Health. She has played a great part in planning, implementing, and evaluating initiatives to support students and school staff to make healthy eating choices in Vancouver schools. These initiatives range from starting food gardens, connecting cafeterias with local foods, providing teacher workshops, and developing policy.
Jennifer Cook is the Supervisor of Food Services at the Vancouver School Board.
Michael Barnes, the Executive Director of the Public Health Association of BC (PHABC), specializes in public health, farm-to-school programs, and policy addressing health inequities.
Joanne Bays, founding member of BC Healthy Communities, current member of the VFPC and PHABC, is a community food security and sustainable food system consultant working in private practice. She specializes in public health, community development, food policy, and local food procurement.
Barbara Crocker, Community Nutritionist with Vancouver Coastal Health, specializes in public health initiatives, community collaboration and community health research.
Liz Cochrane is a high school teacher, community organizer, founder of a healthy and environmentally responsible restaurant, and an accomplished chef.
Stephan Gagnon is a chef and owner of a local restaurant as well as a constructor and designer of numerous restaurants. He will work with schools to create new space designs, healthy menus and help source local food.
Steve Golob is a certified Red Seal Chef, and honours graduate of George Brown Culinary College in Toronto, Ontario. Steve is the Residence Chef at Place Vanier Dining Hall at the University of British Columbia.
---
Alumni
Mark Bomford is the Manager of the Centre for Sustainable Food Systems at UBC Farm. He specializes in agroecology, food system analysis, community-based sustainability education and carbon and ecological footprint analysis of food systems.
Jamie Schaap completed her B.A. in Environmental Studies at the University of Alberta Augustana Campus in December 2009. While there she was exposed to a wide variety of food security and sustainability issues, both in rural Mexico and rural Alberta, as well as the value of experiential learning. Her interests are in the fields of experiential learning, peasant farming in Latin America, and the impacts of North American consumer choice. She began her M.Sc in Integrated Studies in the Land and Food Faculty in January 2011 and is looking forward to being a GRA with the Think&EatGreen@School project.
Kevin Cooper is completing his B.Sc. in Global Resource Systems in the Faculty of Land and Food Systems at UBC, with a specialization in Community Food Transportation Planning.  In 2009, Kevin founded and oversaw the implementation and trial operations of the Marketcargo, a pedal powered food delivery service from the UBC Farm and local Farmers' Markets.  Last summer, Kevin worked as the Garden Coordinator for the SOYL Internship, and is pleased to now be continuing his work with SOYL in a planning capacity for the upcoming year.  He is always looking forward to strengthening the ties between sustainable urban agriculture and sustainable urban transportation, and is thrilled to be a part of the Think&EatGreen@School Project.
Joanna Robinson, the vice-president of the Board of Directors of the Society Promoting Environmental Conservation (SPEC) and a PhD candidate at UBC, has experience delivering garden-based educational workshops in schools and also specializes in social movements opposing water privatization.